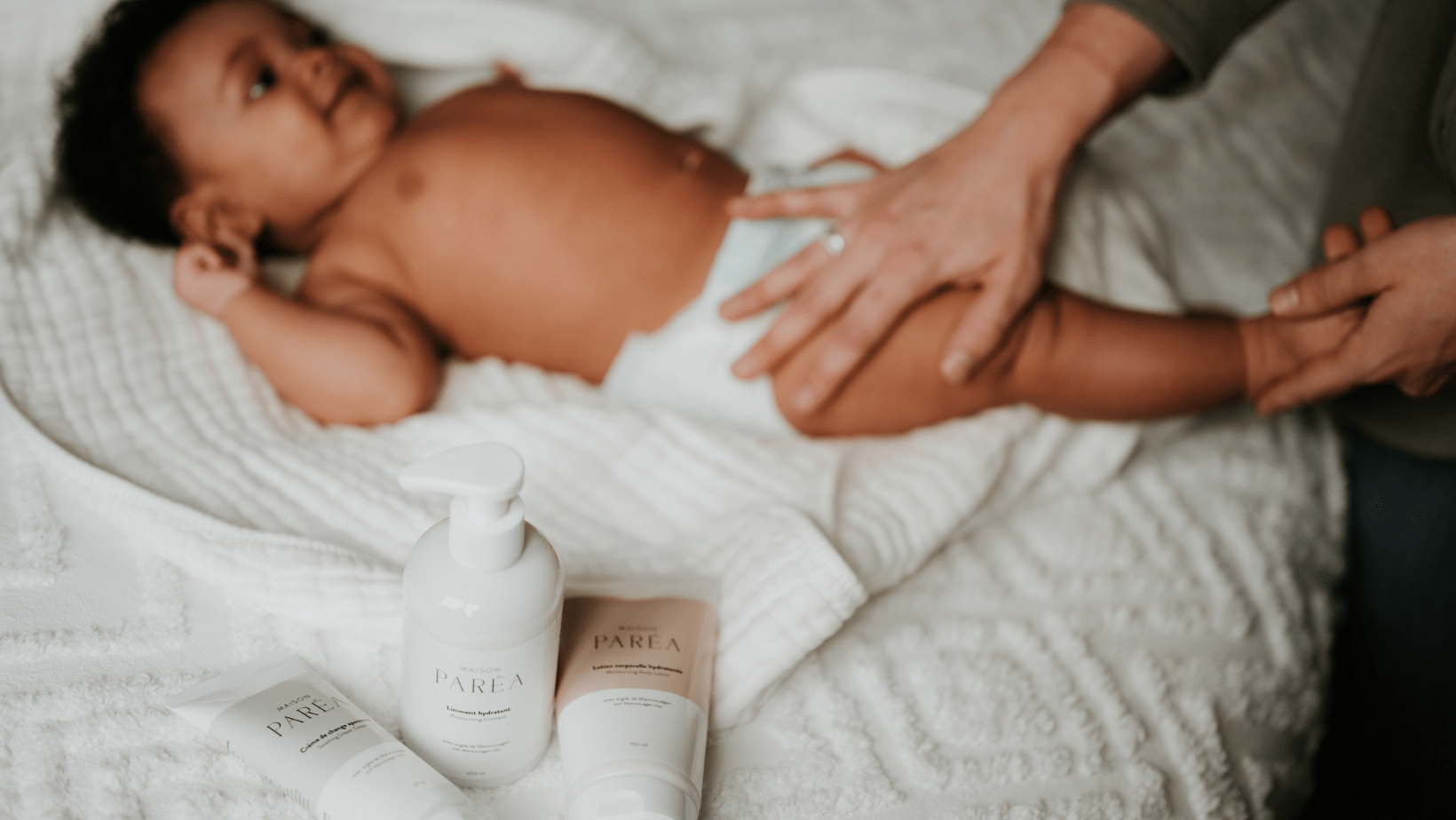 A text by Andréane Loubier, birth attendant
The first bath. This moment that we hope is perfect, but which is sometimes stressful and a little scary, especially if it's the first baby in the family. We feel awkward, we don't really know how to go about it, or where to start.
Here I offer you some essentials to make this moment soothing and pleasant for everyone, not only for baby's first bath, but also for all baths to come!
The place
In a closed, warm room. Forget the idea of ​​putting a small bath on the kitchen island! Your baby will feel the drafts and probably won't like it. Your bathroom, heated to around 23 degrees, would be the best place. Don't forget to close the door! Baby's little bath on the floor on a large towel, in the bottom of your big bath, on the counter if it's safe or in your shower if it's big enough.
Water temperature
37 – 37.5 degrees is ideal. I strongly suggest you have a thermometer, at least for the first few weeks, in order to have a perfect temperature. I know that many recommend using lukewarm water, but as I always tell parents:

"Who likes to soak in a nice bath...WARM?" NOBODY. What's worse than that? So we want hot water, about the same temperature as in mom's belly."
The amount of water
Ideally, baby would be immersed as much as possible. Yes, you can put his ears and cord in the water. A little bit of water at the bottom of the bath can definitely be unpleasant and give you the shivers!!!

Entering the water
With gentleness and attention. When entering the water, support the baby's bottom until it is pressed against the bottom of the bath. Remember that not long ago your treasure was folded in half in a belly! He therefore needs to be "contained" to feel safe. You can also talk to him and explain that you are entering him into the water, pressing your cheek to his while you immerse his body... In short, accompany him very closely.

In the bath
Safety and comfort. There are several reasons why babies may cry in the bath. Being cold and feeling stressed are two main ones. In addition to the warmth of the water and the room, I suggest covering baby.
I find that the best way to do this is to wrap him in muslin as soon as he is naked and immerse him in water WITH the comforter. To wash it, you uncover one body part at a time and that's it!
In addition, being a little "stuck" in the comforter will make him safer and contain his reflexes, so he will necessarily be calmer. If not, you can also hide baby with a large washcloth, once he is in the water. Wet the washcloth and cover the baby's body.

After bath
Warmth and security (again!). Same thing: when you take your baby out of the bath, hold him as much as possible "in a little ball" by taking him under his buttocks and holding his arms against his chest. Quickly place him in a large, thick towel, which will cover his ENTIRE body. Baby towels are cute, but sometimes they are so thin and small…nothing to keep warm!
Some parents will even put the towel in the dryer while bathing. The ultimate in comfort!
Washing little hair
In a second time. Once the bath is finished, I suggest you leave baby in his towel and use the jet of water from a faucet (bathroom or kitchen if it is more practical) to wash his hair. We hold the baby securely in one arm, the hand under the neck/head and we gently bring it forward under the jet of hot water. Wet, wash, rinse and voila! I have seen many babies yawn and fall asleep while having their hair washed like this!
Finally, many parents will take advantage of this moment to massage their baby before dressing them. An unscented moisturizer or carrier oil, such as grapeseed oil, are excellent choices. Don't forget to finish the routine in your warm, draft-free room, in order to end this moment calmly and gently.
I wish you wonderful baths!
Andréane Loubier, birth attendant
www.facebook.com/andreaneloubieraccompanying